Start-to-Finish Dental Implants
If you're missing multiple teeth (or even one tooth!) then you know how difficult it can be doing everyday tasks such as eating and speaking. At Team Green Dentistry, we offer complete implant services – from placement to restoration – to get you back to enjoying a healthy, fully functioning smile once more.
What Are Dental Implants?
Are you embarrassed to smile because of a missing tooth? Is it difficult to eat or speak with gaps in your smile? Dental implants are a permanent method for tooth replacement that help you reclaim a natural-looking, full smile so you can get back to living your life to the fullest. With implants, you'll feel confident flaunting your smile around your friends, family members, and coworkers.
A dental implant is a small post that we place into your jawbone in the gap left behind from a missing tooth. The implant acts as a natural tooth's root and creates a stable foundation for a natural-looking tooth restoration that goes on top.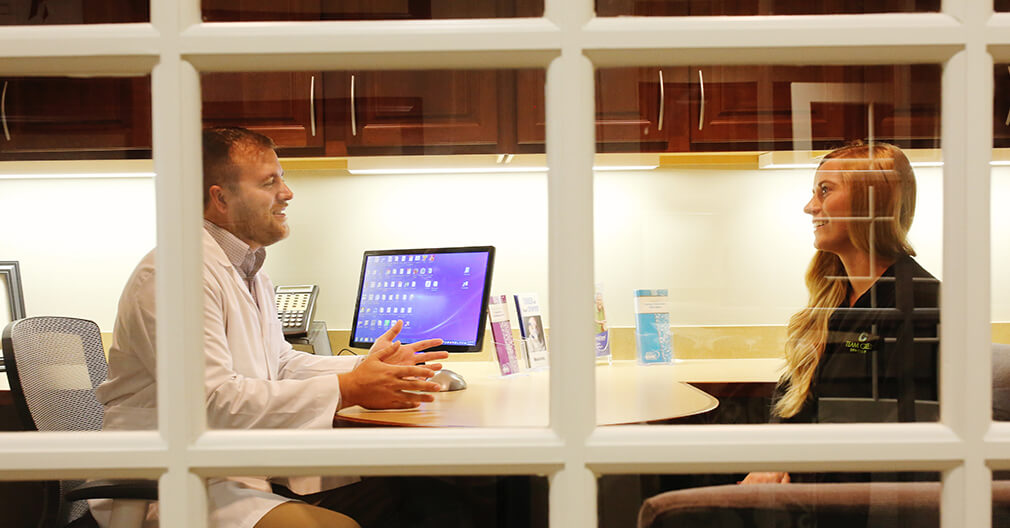 Benefits of Dental Implants
Dental implants are a popular tooth replacement method for patients because they offer a wide range of benefits, such as:
• Feel Natural
Implants are designed to look and feel like your natural teeth so you can eat, talk, and smile with ease.
• Permanent
Since they fuse with your bone, you don't have to worry about them slipping or falling out.
• No Maintenance
Once your implants heal, you can brush and floss them like your other teeth—no additional maintenance required.
• Preserve Appearance
With missing teeth, your cheeks and lips can sag and appear sunken. Implants preserve your facial shape.
• Long-Lasting
As a permanent tooth replacement method, you can enjoy your implants for years to come.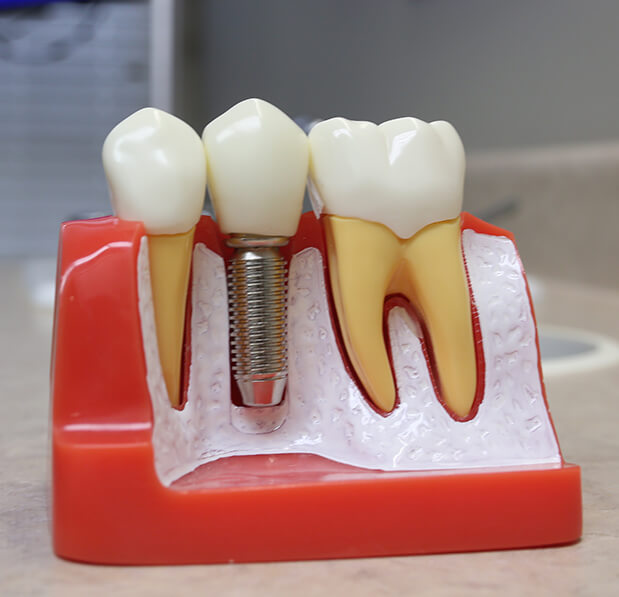 The Dental Implant Process
We take great pride in being able to perform the entire implant process in-house. We utilize state-of-the-art guide technology to safely and properly place implants into your jawbone. Once your implant fuses with the bone, we can move forward with the next step in the process: the tooth restoration. Depending on your tooth replacement needs, we'll either make a crown, bridge, or denture to connect to your implant(s). Dental crowns are for single tooth replacement; bridges are for single or multi-tooth replacement; and dentures are often used for replacing an entire or partial arch of teeth.
"My experience with Dr. Renz and dental implants was an outstanding success. It first started with the consultation. Dr. Renz and staff were comforting and informative. Dr. Renz mapped out everything that he was going to do and assured my comfort was a high priority. During the procedure, Dr. Renz did exactly that. Dr. Renz and staff are extremely knowledgeable in Dental Implants and it showed during the process. Dr. Renz was helpful after the process with a 24-hour call check-in. He gave me a timeline of events and gave me details on expectations. If I had to do it all over again my only choice would be Dr. Renz and Team Green Dentistry. I highly recommend Dr. Renz and Team Green Dentistry for all dental procedures."
– Eric Q.
---
Plan Your Visit
Schedule Your Consultation